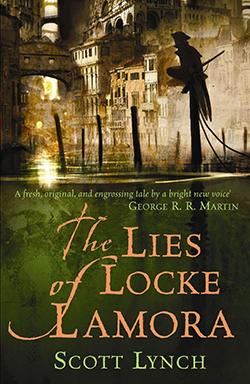 I saw quite a bit of hype for this book on Twitter and was really excited to read it. It had been built up as a story featuring a fantastic antihero in the titular Locke Lamora. What I found wasn't by any means a bad book, it just wasn't what I had expected it to be.
Lies is set in the city of Camorr, a city utilising canals to get around, and follows Locke Lamora and his band of thieves, the Gentlemen Bastards. They carry out impossibly complex heists on the wealthy merchants of Camorr, and the opening of the book follows their latest one. This is great fun to read about, but sadly, this isn't the main storyline of the book. Locke and his band certainly have the potential to be great antiheroes, but they find themselves in the position of just the normal kind of hero when they come up against a rather generic Bad Guy™. The rest of the story then plays out in a fairly predictable, albeit bloody, fashion, leaving me wishing they could just go back to their heists.
There's also a second story going on, telling us the origins of Locke and his friend Jean. I found that these interludes took me out of the story quite jarringly, and not much of note really happens in any of them, although I did enjoy the character of Chains, and they gave some more development to Locke and Jean.
The real triumph of this book is the setting. Camorr is a fascinating and hugely complex city, and I'm disappointed that the sequel isn't also set there, although hopefully Tal Verrar will be just as rich.
Much has been made of Locke's wit, and his great friendship with Jean, but I didn't find him a particularly memorable character. He has a couple of cool lines, but overall I'm left hoping for more in the next book, which I will be reading as this world has plenty of promise.
Rating: 12/20