Peep Show: the definitive comedy for the socially awkward individual with no direction in life, so no wonder it's been such a success with the British public. Iconic characters like Super Hans and Johnson, and the polar opposite main characters Mark and Jeremy have provided ridiculous – and hilarious – escapades beyond counting. Here's my personal ranking of every one of the 54 episodes we have been blessed with.
54. S8E6 – Quantocking II
Mark: Well, me and Dobby make a great team… Opposites attract!
Jez: No they don't. Not really. That's just something scientists and people in horrible relationships say.
53. S9E3 – Threeism
52. S9E1 – The William Morris Years
51. S9E4 – Mole-Mapping
Fuck tennis. It's basically just bullshit ping-pong for giants.
50. S8E2 – Business Secrets of the Pharaohs
This must be the greatest quantity of squeezable mustard ever present at a literary lunch.
49. S5E5 – Jeremy's Manager
48. S5E4 – Jeremy's Mummy
Super Hans: It's a pisser though, innit – cancer. They should find a fucking cure.
Mark: I think they're trying.
Super Hans: Yeah, sure they are. They should pull their fucking fingers out. It's important, Mark.
47. S9E2 – Gregory's Beard
I need a… norm. And you, well you're a real meat and potatoes, straight up and down, Beef Wellington, don't trust the Argies, dick in the vagina, Cheddar Cheese and Chicken Tikka Masala man.
46. S9E6 – Are We Going To Be Alright?
Love's hard mate. Fucking hard. Doesn't work… breaks. But you've got to give it a go. Norwich are never going to win the league, but they still turn up every week don't they? The pricks.
45. S8E5 – Chairman Mark
44. S7E6 – New Year's Eve
I would have found that funnier if I hadn't been literally weeping in fear.
43. S2E4 – University Challenge
Jez: Wow, free chocco! Tasty!
Super Hans: The secret ingredient is crime.
42. S3E4 – Sistering
Looking at porn is like lying to Parliament. It used to be wrong but now it's all a big laugh.
41. S1E6 – Funeral
40. S8E3 – The Love Bunker
Simon: Is this a normal night for you?
Mark: Yeah, yeah, me and my guys, and our cannabis.
39. S5E3 – Jeremy's Broke
I just want to assure you that I am not the same as the rest of these feckless cumshedders.
38. S3E6 – Quantocking
37. S1E1 – Warring Factions
I tell you, you find out who your real friends are when you set fire to Hampton Court maze because you can't take any more of your husband's shit.
36. S2E1 – Dance Class
Jez: There's only so much happiness in the world and they're hoarding it all!
Mark: That's not how happiness works! (It completely is.)
35. S9E5 – Kid Farm
Butter the toast, eat the toast, shit the toast. God, life's relentless.
34. S4E4 – Handyman
If it ain't broke, don't fix it. And even if it is broke, just ignore it and maybe it'll be sort of OK.
33. S6E1 – Jeremy at JLB
32. S6E3 – Jeremy in Love
Dobby: the anxious self-hating man's crumpet. But probably best if I never ever say that to her.
31. S6E6 – Das Boot
Boy to geek to drone.That's the Corrigan trajectory.
30. S5E6 – Mark's Women
You've been going around thinking thoughts your whole life, and look where that's got you.
29. S8E4 – Big Mad Andy
Jez: I've got medical training, I've got a certificate.
Mark: I gave you the certificate. It's utterly meaningless.
Jez: In a way, aren't all so-called qualifications meaningless?
Mark: No.
28. S1E3 – On The Pull
27. S6E4 – The Affair
In, fire thirty percent of the workforce, new logo, boom, out. You are now a fully trained management consultant.
26. S1E2 – The Interview
Brown for first course, white for pudding. Brown is savoury, white's the treat. Of course I'm the one who's laughing because I actually love brown toast.
25. S3E2 – Sectioning
Jez: People like lager and nuts.
Super Hans: People like Coldplay and voted for the Nazis. You can't trust people, Jeremy.
24. S1E5 – Dream Job
I've made a psycho call to the woman I love, I kicked a dog to death, and now I'm going to pepper spray an acquaintance.
23. S2E6 – Wedding
22. S5E2 – Spin War
The Big Beat Manifesto goes "Big Beats are the best, Get high all the time".
21. S1E4 – Mark Makes a Friend
Will you walk, like some stupid .. duck? Or will you drive, like Clarkson?
20. S3E1 – Mugging
Yeah. Take that Stu, you lump of monk. God didn't protect you from my big fist.
19. S7E4 – Nether Zone
Times are hard, Jeremy. I'm selling my clarinet on eBay, I'm making my own hummus.
18. S5E1 – Burgling
17. S4E3 – Gym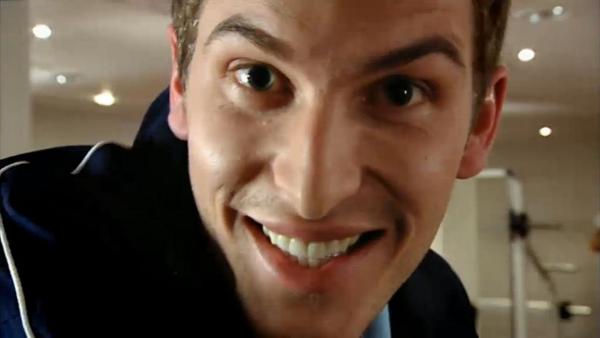 16. S2E3 – Local Hero
Poor me. Poor me. Pour me another drink.
15. S7E1 – St Hospitals
Plumbings just lego, init? Water lego.
14. S8E1 – Jeremy Therapised
Well played Gerard, you couldn't beat me on Earth so now you're shitting on me from heaven, like a dead jealous pigeon.
13. S2E5 – The Man Show
Jez: No Mark. I only told you for a laugh. You promised not to tell.
Mark: Hitler promised not to invade Czechoslovakia, Jeremy. Welcome to the real world!
12. S7E2 – Man Jam
Need to talk business, babe, get yourself a drink. Mine's a large one… as you fucking know!
11. S7E3 – A Beautiful Mind
10. S6E5 – The Party
Jez: Maybe call her? Give her some flavour.
Mark: What, like start a message and then say "Stop it Julio. Get your own cocaine, I've got too much tit in my mouth?"
9. S6E2 – The Test
Just because I'm dealing a little bit of drugs it does not make me a drug dealer!
8. S3E5 – Jurying
Jez: Crunchy Nut Cornflakes are just Frosties for wankers.
Mark: Frosties are just Cornflakes for people who can't face reality.
7. S4E2 – Conference
Oh he is good. Taboo busting, semi-incomprehensible pep-talk.
6. S7E5 – Seasonal Beatings
5. S2E2 – Jeremy Makes It
Oh come on lads, let's lose the cone. I'm a somebody now, there's no need for a cone.
4. S3E3 – Shrooming
Is that normal pooing you're doing, Mark?
3. S4E1 – Sophie's Parents
You're not James Bond, you're disgusting.
2. S4E6 – Wedding
Yeah, yeah, fine. Bit of a wobble. I just proposed to a woman in a coffee shop and tried to get myself run over.
 1. S4E5 – Holiday